For U.S. media, Zelensky's attempt to responsibly thread the needle between Ukrainian sovereignty and a complicated, multi-ethnic nation met with unbridled scorn. In a widely reprinted guest column in the New York Times, Zelensky was described in the weeks leading up to Russia's invasion as "in over his head." Zelensky's attempts to defuse the crisis that now engulfs his country were not understood as the quality of a responsible statesman, but rather "dispiritingly mediocre," more of a "showman" and a "performer" than a serious national leader. Yet weeks later, Zelensky's transformation from schlemiel to martial hero seemed complete. From the New York Times to MSN to the Washington Post, Zelensky was reborn not only as a war-time leader, but as a man who could "unite the world" as a "symbol of bravery"; his line, "I need ammunition, not a ride," is read as action-hero bravado rather than self-deprecating comedic satire. Comparisons between Zelenksy, Putin, and Trump only underscore how much the question of manliness is at stake in leadership: Zelensky is undoubtedly a courageous person in an impossible situation doing the best he can, but to suggest that his actions are a replacement, or should be read as a replacement, for the masculine power of Trump and Putinsuggests how much Zelensky's gender, and not just his politics, is the question at hand. It is one thing to be a leader in a time of crisis; yet Americans seem to want a virile ubermensch who can stand before the bombs as a knight errant. That Zelensky has also become a global sex symbol merely adds a layer of the absurd to the already incredulous.
As Time Magazine framed it in a rather revealing metaphor, Zelensky has been remade from "Charlie Chaplin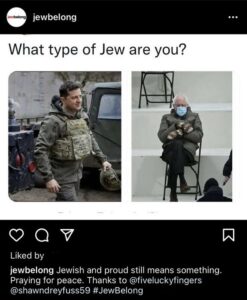 " to "Winston Churchill." The comparison is not only revealing insofar as Churchill was a flaming antisemite and Western chauvinist, but Chaplin, who played Jewish characters and was often derided by the right in antisemitic terms, was often thought to be Jewish himself and may have actually had Jewish roots. Regardless of Chaplin's actual identity, as Hannah Arendt argued, his most famous and identifying role as "The Tramp" carried with it the entire history of Yiddish theater and a Jewish sensibility of the pariah, existing between borders of identity and in the interstices of orderly society. One might say, Zelensky has been baptized by fire. 
Jewish-American and Israeli media have also noted the Jewish dimension of Zelensky's transformation. Yet, rather than engage with subtlety and nuance, they have transformed him less into a literal Anglo-Saxon, and instead into a muscle-Jew, a figure of Jewish martial vigor and strength. In an article in the Forward, Zelensky was praised as a "modern Maccabee," referring not only to ancient Judean zealots, but to the Zionist cultural myth of the "New Jew" who triumphs over Jewish enemies real and imagined with military prowess and masculine courage.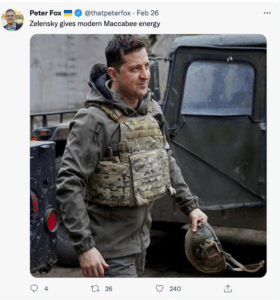 The image that often accompanies Zelensky-as-Maccabee is not of him in his usual attire—a casual suit or his post-invasion olive t-shirt and blue-and-yellow pin—rather, it is of him striding out of a military jeep, dressed in a flak-jacket, army helmet in one hand. The Atlantic raises this note an octave to say that Zelensky's "fighting spirit" is actually the terrain on which Jews will find "acceptance and inclusion" in the West, which of course implies the converse: to the extent that Jews resist such conscription into Western ideals of manhood, they will remain perpetual outsiders. The pro-Israel non-profit, Jewbelong, forced this association into barbaric clarity: in a tweet with the now-famous image of Zelensky in a flak jacket, he is opposed by the equally famous image of Bernie Sanders in mittens and a surgical mask, with the caption: "Which kind of Jew are you?" That Sanders's crossed legs, medical mask, oversized orange mittens, and look of physical discomfort during a presidential address are contrasted with the casual manly stride in a military uniform says far less about Sanders and Zelensky as people than it does about the fantasies projected onto Jewish identity—particularly Jewish masculinity.