Join the Poor People's Army!
#LivesOverLuxury March and Assembly, August 16 and 17
The Poor People's Army is planning an outdoor People's Movement Assembly about "The Path to Power for Poor & Working People" on August 16th, as well as a #LivesOverLuxury March on the DNC and Biden, from the Liberty Bell to Joe Biden's campaign headquarters on August 17th. Both events will take place in Philadelphia, PA. We invite people to join us to announce our political independence and to put forward a vision of society that will prioritize people's lives over the luxury of the billionaire class.
The Poor People's Army was initiated by the Poor People's Economic Human Rights Campaign (PPEHRC), which has organized some of the largest marches outside the U.S. presidential conventions since 2000. We call ourselves an Army to identify with poor people's movements around the world and distance ourselves from the nonprofit model of change in the U.S.
We believe the United States is at a turning point as people face the ongoing crises of the pandemic and the economic recession that will include downsizing and the automation of more jobs forever. Looming in the background is an ongoing climate catastrophe that threatens to worsen both public health and economic situations for poor and working people (and, of course, threatens the survival of humanity on the planet in the long term). With the onset of worse living conditions for people in the U.S., the government response will be a combination of surface-level reforms to quell uprisings with increased surveillance and control. In the coming years we will arrive at a crossroads: either the leaders of both mainstream political parties will march us further down the path of starvation, surveillance, and social control; or poor and working people in the U.S. will unite to keep ourselves alive, advance human rights and civil rights, and take the means necessary to do so.
The Poor People's Army is a nonviolent Army and movement that aims to do four things:
Keep people alive through "Projects of Survival," by any means necessary,
Build and educate our army on the politics of love to fight for a society of equality,
Hold actions and advocate to attain reforms for poor and working people in the present, even as we fight for long-term system change, and
Strengthen our international solidarity with our brothers and sisters around the world.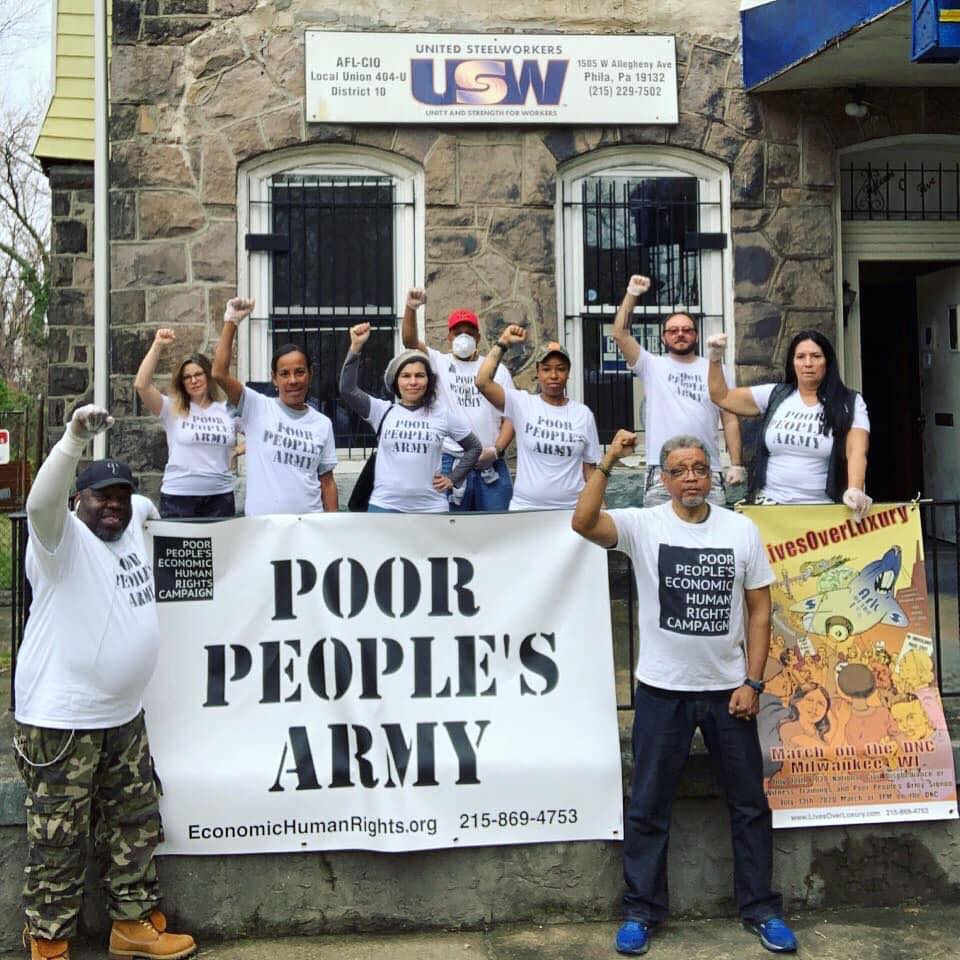 As the Democratic National Convention is held online to appoint Joe Biden as their candidate, the Poor People's Army will hold a People's Movement Assembly at an outdoor "Trump-Bidenville" Tent City in Philadelphia on August 16 (location to be announced closer to the date). For years now, PPEHRC has erected Tent Cities after the name of the sitting president, in the tradition of the "Hoovervilles" during the Great Depression, to call attention to the government's role in perpetuating economic inequality. At our Trump-Bidenville, people can safely congregate in a large space to discuss our visions and strategies for the radical change that is required today. Topics will include community-based and community-driven efforts to tackle the Climate Crisis, Community Violence, Economic Inequality, and Police and Military violence, as well as specific tactics and positive visions for change like Food Sovereignty, Housing Takeovers, and a plenary session on the "Path to Power."
PPEHRC started as Kensington Welfare Rights Union in Philadelphia in the 1990s, and before that as Up and Out of Poverty in Minnesota, and has always included the tactic of taking over abandoned, government-owned housing for homeless families. It comes out of the necessity to keep people alive, but it is also a political action. Over the years, we have taken thousands of houses and properties that sat empty and neglected by local, state, or federal governments. Occasionally we have taken over abandoned churches and abandoned properties of absent, rich private owners. As a movement, PPEHRC has sheltered countless people, who in turn have joined the movement and helped to shelter others. For decades, housing takeovers along with mutual aid food networks have served as key pillars of PPEHRC's Projects of Survival. The Poor People's Army is led by poor, homeless, and formerly homeless people, who understand that if people can't survive, they can't fight to change the system—the survival of the Poor People's Army soldiers is crucial. Taking over abandoned property also points out the absurdity of the capitalist economy where buildings remain empty while people sleep on the street and in cars.
At our People's Movement Assembly, one of the sessions will reveal new research by a group of PPEHRC-affiliated geographers mapping out the amount of abandoned properties in Philadelphia compared to the amount of homeless people. The numbers, as we can all imagine, are shocking and murderous, where there are 10 vacant properties for every person experiencing homelessness. In the ongoing crisis of homelessness, exacerbated by the current economic and health impacts of COVID-19, the Poor People's Army is expanding housing takeovers and counseling groups across the country doing so. While some of the takeovers are publicized as a political strategy, many of the takeovers remain private out of necessity to avoid displacement. With the coming foreclosure and eviction crisis that is sure to come in the months ahead, and as we head into colder winter months, the tactic of housing takeovers will be even more crucial to keep people alive. Through this work, PPEHRC will also work to recruit more soldiers into our Army, as people realize collective strength in organizing.
Like the housing takeovers, our Tent Cities have always doubled as a project of survival as well as a political statement and place for political education. In addition to the presence on government-owned land and the political discussions at the Assembly, people will be fed and have access to safety equipment like masks and sanitizer. Artists will display sculptures and paintings that show the violence of a political and economic system that ignores the plights and dreams of the Poor, and there will be a place to create and display hopeful visions of the new society we want to create. We will have dance, live music, and other performances.
Then, on August 17th, we will rally and march for our political independence.
We believe that revolutionary change is on the horizon. This summer has been full of uprisings across the country (and the world) against police brutality and racism. More and more people are losing faith in capitalism and its guardians and whatever may come after capitalism under the hand of the rich. Increasing numbers of people understand that CEOs and politicians do not have our interests or lives in mind as they plan for whatever comes next. As more and more people are impacted by joblessness, diseases, climate catastrophes, lack of access to the basics of food, housing, education and a recession that has become a depression, they are craving solutions. We are part of a movement that teaches them "we are the answer to our problems," we need the power to control our own destinies.
While the system has failed so many for so long, the government's response to Covid-19 and the economic depression is creating a growing equality of misery among the so-called 99%. Our point is not to say that the public health, economic, and police brutality crises are hitting all people the same. Everyone's background means that people are experiencing different ways they are targeted for neglect, oppression, and denial of human rights by the system and our country's leaders. But we are living in a unique time where more sections of the population are unable to take care of themselves and their families, and are losing faith in the system. Young people of all races are supporting Black Lives Matter actions because they see their future connected to justice for Black Americans—they see a problem with a system that prioritizes military and police spending over a livable planet or healthcare for all people.
So far there have been more pandemic deaths among those in poverty and those that are living in urban areas. This has impacted poor people of all colors. We also know that systemic racism creates conditions where American Indians, Black people, and Latinx people are five times more likely to be hospitalized for COVID-19 than whites. While economic misery and bad healthcare for poor people of all races is nothing new, there is a growing number of so-called "middle class" people and professionals being thrown into the ranks of the poor. Within just four months, nearly thirty-three million Americans are collecting unemployment benefits, and nearly half of all U.S. adults are jobless. Mainstream studies are predicting that many of these jobs will be lost forever, as employers adapt to the new normal. The speed of automation will increase to deal with populations that can become sick, need childcare, healthcare, and food. Fourteen million kids in the U.S. today aren't getting enough food to eat. We know these problems will multiply exponentially due to climate disruption.
And during this time of increasing misery for so many, the billionaires in the U.S. have increased their wealth by 20% in the last three months.
The Poor People's Army seeks to unite a growing class of people that are losing work, do not want to live at the whim of billionaires, and will need to take control of society's wealth and resources in order to end oppression and inequality forever. We will be announcing the location for our "Trump-Bidenville" in the coming weeks, where we will provide meals and people will be welcome to set up camp or visit, and use the space to discuss all these ideas. We know there are crucial lessons that the organized poor can offer the rest of our class, people that are losing their jobs, and those who understand how precarious their work and security are. We will explain how we operate our projects of survival—networks of people keeping people alive by any means necessary, to fight another day.
At 4:00 p.m. on August 17th, opening day of the DNC, the Poor People's Army will amass poor, homeless, and working people from across the country at the Liberty Bell on Independence Mall to declare our political independence from the two corporate parties that don't care about poor people. From there, we will march down Market Street to Joe Biden's headquarters at 1500 Market St.
PPEHRC submitted permits to the City of Philadelphia and the National Park Service for the #LivesOverLuxury rally and march. The City and NPS have yet to recognize our First Amendment Rights to peacefully assemble by giving us a permit. We intend to march regardless. We have always marched peacefully with or without permits. The rally and march will feature celebrities actor/filmmaker Mark Webber, hip hop group Rebel Diaz, Presidential & Vice Presidential Candidates Howie Hawkins and Angela Walker, and Cheri Honkala, among others.
"Now more than ever we need to create a society that puts Lives over Luxury. The system, led by Democrats and Republicans, is killing poor people," says Cheri Honkala, founder of PPEHRC and Poor People's Army. "People don't die from coronavirus or hypothermia or hunger, they die from a system that doesn't care about people. We have the National Guard and militarized police terrorizing Americans while pandemics and the opiate crisis rage without proper healthcare, and on top of it, no jobs or relief for people. But corporations and billionaires continue to make money throughout it all. We want to put an end to this system."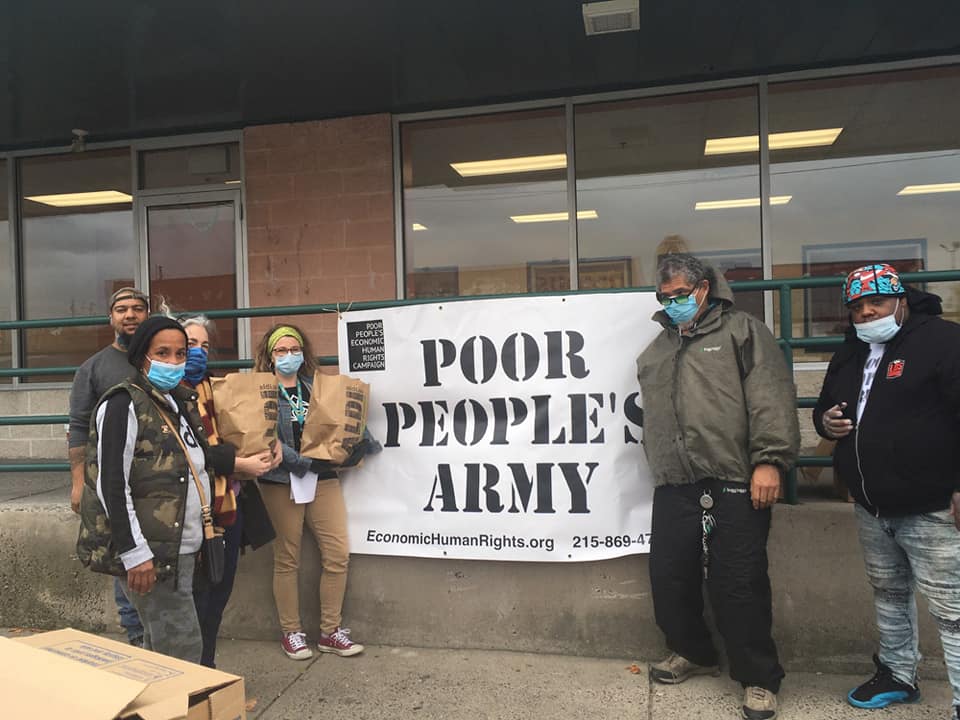 "Sixty-seven cents of every government dollar is spent on war and killing people, and people are out here with no job, no housing, financial assistance ending, but plenty of dope and guns, despair and death on the streets of Philadelphia," says Tot Metz, a Youth Coordinator in the Poor People's Army and a formerly homeless woman. "Youth have no future in this sick system, with climate change, jobs getting automated, community gun violence, and police lynching us. We are coming to take back what's ours."
Join us in person, spread the word by posting and putting up posters, and please support by pre-ordering T-shirts or offering financial assistance or supplies: https://livesoverluxury.com/
The Poor People's Army will encourage and help participants to follow CDC guidelines with masks and physical distancing for these events.
Contact us at PPEHRCorg@gmail.com or 215-869-4753. For more information on these actions and our history, see https://livesoverluxury.com/ and https://poorpeoplesarmy.com/. Read our 16 Principles of Unity here.