Norton and Stein are right to say there is a tradition of radical and Marxist criminology that has warned against the temptation to think that mass incarceration is simply race-based. They are also right that we say regrettably little about any of this scholarship in our essay. But they are wrong to think this means that we are battling a strawman.
First, while Marxists in general, and Gilmore in particular, have written insightfully about the carceral state, their views are far from standard. We do not focus on the left-wing scholarship that Norton and Stein favor because what we call "the standard story" is not really the left's story, but the liberal story — notably The New Jim Crow story. And this liberal story has been much more influential than the left-wing one.6We would add that it has also been influential on the left, as one can see from the other criticism of our article published by Spectre (1, no. 2), by Peter Ikeler and CalvinJohn Smiley, which is largely a defense of The New Jim Crow. Because there are few overlaps with Norton and Stein, we will address those criticisms in a separate response.
As we say in our essay, Alexander's The New Jim Crow is the single most cited piece of scholarship in the literature on mass incarceration. It has been cited more than 12,000 times since its publication in 2010. Gilmore's Golden Gulag, which is probably the most influential statement of a Marxist explanation of the American carceral state, has been cited roughly 3000 times since 2007. Put another way, by this metric and adjusted for date of publication, Alexander's book is roughly 5 times more influential than Gilmore's. Note that Gilmore, in the very interview that Norton and Stein cite, complains that "mass incarceration has, unfortunately …come to stand in for 'this is the terrible thing that happened to Black people in the United States'." She is, in other words, complaining about the hegemony of the standard story.
Golden Gulag
Yet even if they are wrong to accuse us of battling a strawman, Norton and Stein could of course still complain that we are treading ground already well-trodden by previous left-wing critics. Why not simply tip our hats to writers like Gilmore, and the parade of scholarship cited in Norton and Stein, who have been battling the phantoms of the standard story for a long time?
It is a fair question. There is much to learn from Gilmore's work, in particular. We regret not recommending it more highly in our piece. While Golden Gulag is primarily an explanation of California's prison building program, there are many overlaps with our broader account of the origins of mass incarceration. Both, for instance, identify deteriorating labor markets and the emergence of the austerity state in the 1970s as key underlying conditions. As we clarify below, we are sympathetic to Gilmore's argument about the rise of a "surplus population" abandoned not just by capitalist industry but also by federal and state support, a loss for which local and city governments were unable to compensate due to what Gilmore aptly calls "fiscal apartheid." For us it was precisely these conditions that channeled real concerns about the rising incidence of crime and violence (itself largely driven by such "organized abandonment") into the austerity program of mass incarceration.
Further, while we will have more to say about racism below, we endorse much of Gilmore's account of its role in the rise of mass incarceration. Gilmore convincingly argues that racism not only shaped California's "law and order" politics but was also exacerbated by the crisis and restructuring itself.7On the relationship between austerity and racism Gilmore writes that "Racist and nationalist confrontations heightened, driven by the widely held—if incorrect—perception that the state's public and private resources were too scarce to support the growing population." She also cites the "layoffs of thousands of aerospace engineers" in 1970s California as "an important foundation for invigorating active consciousness of a normative racial state", suggesting that these layoffs might help to explain the popularity of "law and order" politics (p. 40). And we also agree with her criticism of what might be called the "race reductionist" interpretation of mass incarceration: including the idea that modern prisons represent a continuation of slavery,8In Gilmore's view this is "a product of mixing the Thirteenth Amendment with thin evidence", as well as overemphasizing the role of private prisons in the prison boom. and that white prisoners can be considered "collateral damage" of a system designed to "to get rid of people of color."9In questioning David Roediger and Pem Buck's notion of white prisoners as collateral damage (a "reserve army of whiteness") Gilmore appears to defend the idea of a "convict race" — that black and white prisoners, who share the same fundamental interests, are pitted against each other by prison managers to more effectively control them.
Given all this, why do we not lean on Golden Gulag more heavily?
The key reason is that Gilmore denies the chief mechanism that links deteriorating labor markets to rising incarceration: namely, the rising crime rate. Gilmore's vivid summary of the narrative in Golden Gulag — "crime went up, crime went down, we cracked down" — suggests as much. In her view, the prison boom had no relation to crime.
Yet the available data paint a very different picture. In fact, violent crime in California rose steadily from 1960 to 1980. In her book, Gilmore makes a lot of the fact that the rate of violent offending fell slightly in the early 1980s, just when California started building more prisons. But, as Figure 1 shows, this amounted to just a three-year fall of 14% from a local peak in 1980, following an uninterrupted rise of 270% over the previous 20 years. Moreover, the rate of violent offending once again rose from 1984 to 1993.10It is possible, as Gilmore suggests, that some of this later observed increase in offending was driven by the "crack down" itself, due to a negative impact of mass incarceration on economic prospects and social cohesion in the most impacted neighborhoods. But this theory is not particularly consistent with the fact that crime rates plummeted from the mid-1990s even as prison populations continued to rapidly increase. During the three years when "crime went down," there were more homicides in California than in the entire decade of the 1960s. As Figure 1 shows, Gilmore's sequence is true neither of California nor of the nation as a whole.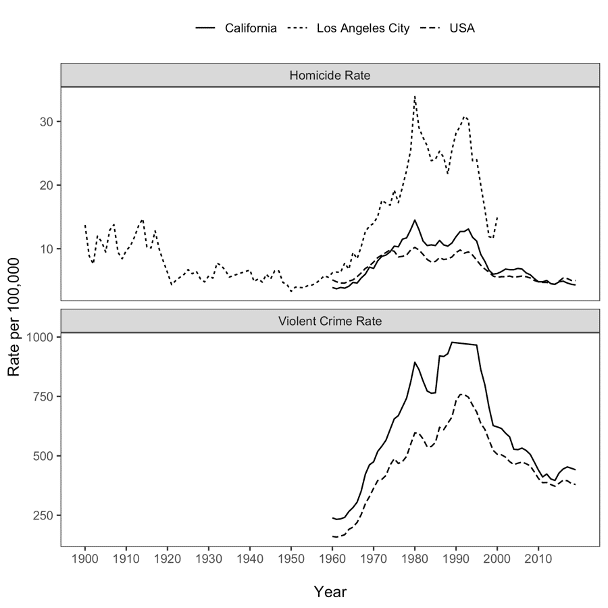 Gilmore further rejects the view that the California public was increasingly anxious about crime in the 1980s.11Gilmore pits her own account against what she refers to as "the dominant view" that public anxiety about crime drove the prison boom (see e.g.  Zimring et al.,: "The sharp changes in levels of imprisonment in California are universally acknowledged to be a result of shifts in the importance of public opinion in the creation of penal policy"). Gilmore (in contrast to Norton and Stein) also explicitly rejects the theory that there was a media-generated moral panic about crime, arguing that the media made it perfectly clear to California's citizens that crime was falling in the early 1980s. Rather, she argues that politicians invented both the fear of crime and crime itself (by passing laws criminalizing more behavior) in order to fill the prisons they had built.12According to Gilmore, California legislators in the early 1980s were faced with the problem of "how better to guarantee potential prisoners", to which their solution was to pass new and tougher laws whose purpose was "legitimizing the prison expansion and operation program of the state's fastest-growing department" (pp. 95, 110). Here it is hard to distinguish Gilmore's account from the "conspiracy" view she elsewhere rejects. This attributes to politicians extraordinary powers of collusion, control, and foresight, when a more straightforward explanation would be that people have good reason to turn to crime when they are abandoned by both state and capital, and good reason to worry about violence when its incidence increases.
In our view, it is no surprise that politicians were able to exploit people's fear of crime in order to pass prison-building and punitive legislation. Note that this was true not only of white and racist politicians. In fact, there is evidence that black elected officials in particular faced pressure in high crime cities like LA to do something about unprecedented levels of violence.13Mike Davis, City of Quartz (Verso 1990), pp. 272-292, and Donna Murch, "Crack in Los Angeles: Crisis, Militarization, and Black Response to the Late Twentieth-Century War on Drugs." The Journal of American History 102, no. 1 (2015): 162–73. Both Davis and Murch see that pressure as stemming particularly from "middle class" or "elite" African Americans in LA. See below for our own findings with respect to this interpretation. We will return to this point below.
It should be noted that in other work Gilmore has been more willing to discuss the reality of crime and violence, including among the victims of organized abandonment.14See, e.g., Ruth Wilson Gilmore, "Race, Prisons, and War: Scenes from the History of U.S. Violence," Socialist Register (2009). Gilmore's new book, Change Everything: Racial Capitalism and the Case for Abolition (forthcoming 2022) also promises to treat explicitly the problem of "interpersonal violence." Her frankness in this respect is consistent with a left-wing tradition of crime writing that is generally unabashed in confronting the problem of violence in poor and working class communities, a tradition in which we would situate our own claim that "crime is an index of oppression." It is predominantly the liberal, not the left-wing, critics of mass incarceration that have come (in recent years) to obscure that oppression by denying or underplaying its harmful consequences, thereby reproducing what Jackie Wang has called "the politics of innocence."15Jackie Wang, Carceral Capitalism, Semiotext(e), 2018.
Gilmore is rightly critical of much of the liberal narrative, yet insofar as Golden Gulag also elides the fact that violent crime was rising sharply prior to the prison boom, it reproduces the standard story in this key respect. Each of the main puzzles about American punishment (why America incarcerates more than comparable countries, why the rate of incarceration rose, why poor and black people are more likely to be in prison) can also be posed about American violence (why America is more violent than comparable countries, why the rate of violence rose, why are poor and black people more likely to be victims and perpetrators of violence). The principal objective of our essay was to show what an account of mass incarceration that took American violence seriously might look like. Gilmore's book, while very insightful in many other respects, does not do this.
The book also has a key theoretical weakness. In summarizing her argument, Gilmore sometimes explains the punitive turn by its effects. She argues that the purpose of the prison building program was to absorb the four kinds of "surpluses" created by the economic crisis of the 1970s: surpluses of land, capital, labor, and state capacity. She calls this, provocatively and famously, "the prison fix." The origins of mass incarceration lie in the fact that it solved the problems that capitalism created.
This is a functionalist argument, by which we mean it is an argument in which the real or intended effects of an institution are adduced to explain its causes. Functionalist arguments can be powerful, but they require mechanisms linking observed effects to causes (whether selectional, as in evolutionary biology, or intentional, as in when one explains the drinking of water by the quenching of thirst). Yet Golden Gulag is extremely thin on the links between capitalist crisis and California's punitive turn. Gilmore never explains what would have happened had prisons not solved the crisis (which could furnish a selectional explanation, if it could explain why prisons were the necessary consequence of any capitalist crisis that remained unresolved). And while she refers repeatedly to a "power bloc" pulling the strings of the punitive turn, it is never clear just who is involved and what they knew about the functional imperatives they were serving (which could furnish an intentional explanation). It makes sense to argue that prisons are somehow functional for capitalism, but there is something strange about using this argument to explain mass incarceration. After all, capitalist crises are ubiquitous, but mass incarceration is unique. For most of capitalism's history, the modal response of elites to economic crisis has been to abandon the poor, not to incarcerate them en masse.