For the first time in half a century the "reserve army of labor", those unemployed, out of the workforce but willing to work and those in peripheral employment began to visibly shrink. It is this "reserve army" of available workers that helps capital restrain wages, provide potential strike breakers, and discourage employed workers from quitting, demanding more, and striking. Table I shows that by every conceivable measure in 2021 this reserve of people traditionally hungry enough to work for less or replace strikers was getting smaller and desperate workers more scarce—though never, of course, wholly absent. Employment and job openings were up, layoffs down, so were those "not-in-the-labor-force" (NILF) who wanted work. Workers were quitting low-paid jobs in hopes of better opportunities, even in those industries with relatively high proportions of Black and/or Latinx workers who have higher unemployment rates such as "leisure and hospitality." Desperate employers were suddenly raising wages in order to attract workers, but soaring prices destroyed those gains faster than bosses could or were willing to improve the offer.
The inflation of 2021 wasn't driven by those wage increases which were playing catch-up with rising prices, nor was it the kind of consumer-driven inflation that mainstream economists often blame and that the Federal Reserve Bank tries to dampen by raising interest rates. The driving forces behind the inflation of 2021 and 2022 were in the production and transportation "bottlenecks" caused by the supply chain crisis of 2021 and labor shortages, which were expected to last into and beyond 2022. The disrupted movement of goods was costing more. While consumer prices rose by 7 percent from December 2020 to December 2021, the cost to producers of freight trucking for intermediate goods moving from factory to factory and those for finished products from factory to market both rose by 17.7 percent. This compared to 2.3 percent for each from December 2019 to December 2020.  Prices for intermediate materials for manufacturing were up 38 percent in 2021. Scanning the field of wreckage for weak points from which to leverage outsized profits in 2022, financial predator Black Rock argues, "We've entered an era where supply constraints are the driving force of inflation, rather than excess demand." It was not high growth rates that were driving prices up since, despite big profits, real GDP scarcely grew at all in 2021. As Black Rock put it, it wasn't the "economic engine" that drove inflation, but "the engine misfiring."8Black Rock Investment Institute, "A world shaped by supply," Macro and market perspectives, January 2022, 1, 3. And misfiring in terms of broken supply chains, unavailable parts, and discontented workers will continue for some time.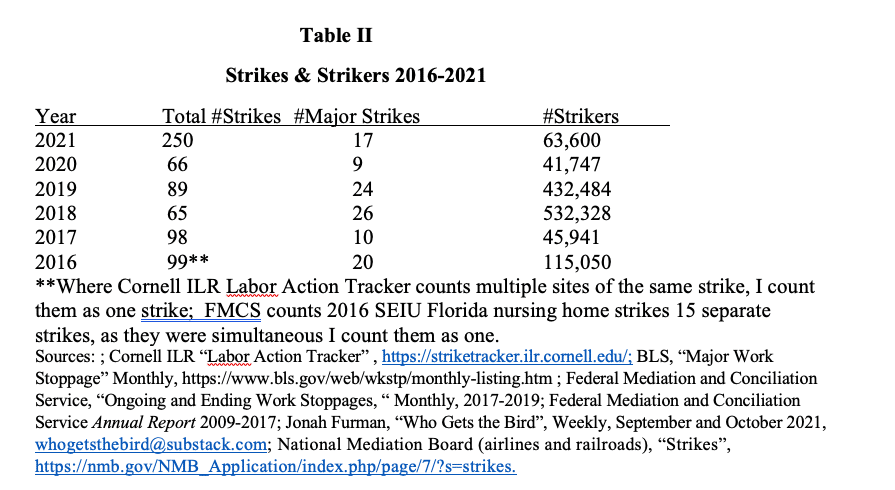 Payback time: 2022
Taken together, the combination of a tight labor market and persistent inflation is a classic recipe for increased labor militancy and the potential to begin to reverse the setbacks of the last forty years. While it was hardly a "strike wave", as Table II shows 2021 saw some 250 strikes—more than in any year since before the Great Recession of 2008.  Some were big like those at John Deere, Volvo, or Mercy Hospital in Buffalo. Many, however, were in small bargaining units or even outside of union representation. Overall, the numbers of strikers didn't come close to those of the teachers' strike of 2018 and 2019. Nevertheless, the increased frequency of direct action pointed toward a willingness to fight by workers who were called "essential" but treated as disposable—workers who went from "heroes to zeros" in less than a year.
These first signs of a new militancy were not only for better pay, safer workplaces, and better conditions, but in a real sense beginning the Herculean task of undoing four decades of contract concessions, falling real wages, two-tier wage schemes, lost benefits, digitalized speed-up, and ever more invasive surveillance. From strike votes to contract rejections, the evidence is that the push for strikes has been coming from the ranks, more and more of whom have overcome the fears and insecurities of yesterday enough to begin to take on this demanding task. The uptick of 2021 can become the upsurge of 2022 and beyond if—and there are some big ifs.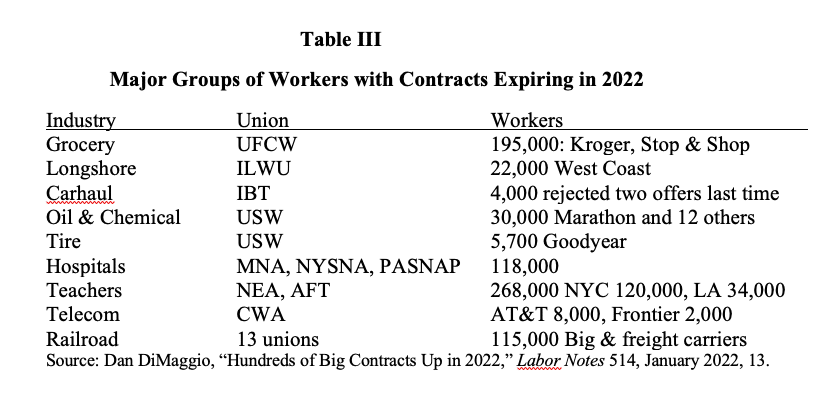 The normally routine annual collective bargaining calendar that has for a long time been the scene of give-backs and stagnant or falling real wages, nevertheless, sets the stage for a class struggle drama in 2022. This year will see an unusually heavy bargaining schedule as nearly two hundred contracts covering 1,000 or more workers representing 1.3 million union members expire between the end of 2021 and the end of 2022.9Dan DiMaggio, "Hundreds of Big Contracts Up in 2022," Labor Notes 514, January 2022, 13. That's compared to 160 such large contracts last year. Table III lists the major groups of workers and their unions facing negotiations this year. Many are in sectors where workers have already appeared more strike-prone than average including those in grocery, healthcare, education, and telecommunications. In addition, hundreds of thousands of other workers are covered by contracts expiring in smaller bargaining units. There are also organizing efforts among workers who aren't supposed to be able to unionize at high turnover firms like Amazon and Starbucks, by "independent contractors" at logistics giant XPO in Los Angeles and San Diego, and many more at smaller outfits.10Jonah Furman, "The week in US unions, January 15-22, 2022," Who Gets the Bird, January 24, 2022. Union victories and a tight labor market in 2022 should encourage workers to join unions even given the risks that are involved.
That capital will not always fold easily in the face of strikes, however, is clear from how some strikes have been dragged-out for a long time due to employer intransigence. These include Steelworkers at Special Metals in West Virginia, construction concrete mix workers in Seattle, Bakery workers at Rich Products in Santa Fe, New Mexico, and airline pilots at Alaska Airlines who have gone three years without a contract.11Jonah Furman, "This week in US unions, January 29-Feruary 5, 2022," Who Getsthe Bird?, Fruary 8, 2022. On the other hand, some of those bargaining this year have a track record of victories such as CWA members at AT&T, Hospital and education workers just about everywhere, and the nation's 4,000 Teamster carhaulers who move cars from factory to dealer.
The carhaulers are a particularly important group because their national contract will be negotiated by the new leadership of the Teamsters representing a coalition of local leaders who broke with Hoffa over the last several years and the rank and file organization Teamsters for a Democratic Union (TDU). The last time the Teamsters negotiated with the carhaul firms TDU led the rejection of union-recommended offers twice, winning significant gains. Carhaulers also voted overwhelmingly for the Zuckerman United Teamster slate in 2016.12Teamsters for a Democratic Union, "Carhaulers Say No To Concessions & Hoffa," Teamster Voice, December 8, 2016, https://www.tdu.org/carhaulers_say_no_to_concessions_hoffa; Teamsters for a Democratic Union, "Carhaul Teamsters Show How to Win: A Guide for Freight, UPS, and UPS-Freight Teamsters," Teamster Voice, March 30, 2017, https://www.tdu.org/carhaul_teamsters_show_how_to_win_a_guide_for_freight_ups_and_ups_freight_teamsters  This year will certainly see another clash between these companies and an unusually well-organized rank and file. A less well-known development in 2022 is the bargaining by 13 unions representing 115,000 railroad workers at the nation's seven major freight carriers. The unions have declared an impasse which means bargaining goes to mediation and failing that the possibility of "self-help," meaning a strike. Under the Railway Labor Act, however, strikes can be halted by the National Mediation Board (NMB). The current NMB now has a Biden-appointed Democratic majority, which means a possible test for the Biden administration's real attitude toward labor action. Inside the various rail unions, the cross-craft rank and file organization Railroad Workers United is pushing for a strike.13Joe DeManuelle-Hall, "Rail Unions Are Bargaining Over a Good Job Made Miserable," Labor Notes, February 2, 2022, https://labornotes.org/2022/02/rail-negotiations-are-about-good-job-made-miserable; Railroad Workers United (RWU), The Highball Vo. 15, No. 1, Winter 2022, 5-6.
This year's bargaining round is, therefore, a contradictory setting in which capital wants to hold on to its outsized gains as supply problems threaten them and workers are developing both greater self-assurance and a hunger for a better life coming out of the depths of the pandemic. Given the start of militancy apparent in 2021, this year is certain to see some major conflicts not only between workers and bosses, but between the ranks and those leaders who hesitate to further this most basic struggle. The questions for socialists as for all workers is how many and how hard fought will these contract fights be and to what degree will these conflicts between capital and labor help to transform a labor movement still in retreat. Economic context and opportunity by themselves are not necessarily destiny.
In this context, those union leaders accustomed to a lifetime of negotiating retreat and concessions to capital or at best marginal gains in what became the routine practice of collective bargaining in the neoliberal era are by themselves unlikely to make up for what had been lost or given-away. To be sure there are exceptions to this grim reality. Nevertheless, encased in bureaucratic structures, business union ideology, and political dependence on business-funded Democratic politicians, this habit of accommodation by all too many top union leaders was bound to conflict with a new sense of value and spirit of resistance evident in a growing proportion of union ranks. This was apparent in 2021 as a number of major contract offers proposed by union leaders were voted down, sometimes more than once. So, the first big if in 2022 is whether the majority of today's union leaders can be pushed into or pushed aside to allow for the kind of fights needed to undo the legacy of retreat many of them presided over or inherited.